PuckCentral:
I'll start by asking how you think the season has went for you personally and for the team? You guys were in a tight playoff race so it must have been exciting?
Jack Campbell:
My season in the OHL was definitely more consistent this year than last season. I feel my game has gotten better every single day. Whether it is my on ice skills or mental toughness the OHL has definitely challenged me to be my best every single day. The playoff race was a lot of fun, despite the disappointment of not reaching the playoffs, as a team we played as hard as we could but we just didn't catch enough breaks and the consistency wasn't where it needed to be in order to be an elite team.
PC:
With the playoff race so tight do you feel any added pressure to perform or was it just business as usual for you?
JC: For me I always put more pressure on myself than anyone could possible put on me. So I truly enjoy the spotlight in leading my team every single night. I love the pressure games where your season could be on the line...that's simply what I play the game for. Just going out every single day and competing as hard as I can to help my team come out on top is what I love most about playing hockey.
PC:
I just want to take a quick step back and ask you what winning the gold medal at the WJC in 2010 has done for you and your development? You basically came out of nowhere and in the eyes of many, won that tournament for the USA.
JC: I've been so fortunate to have so many great hockey memories thus far in my young career, and that gold medal in Saskatoon in front of the entire country of Canada was so thrilling, its something I will remember vividly the rest of my life. The guys on that team were so talented but we also had such great character from the coaches all the way to the players. Thats what allowed us to be as successful as we were.
PC:
What did it mean to you to win the Top Goaltender in the 2011 WJC?
JC:
As far as the 2011 WJC is concerned, it was definitely a disappointing finish as I had my heart set on winning the gold medal. But personally, being named the top goalie was such an honor and it truly showed what a great team I had in front of me. Our defenceman were so talented it made my job so easy.
PC: The last World Junior tournament was obviously disappointing for you and the Team because of the high expectations, what do you think the downfall was? And there must have been plenty of positives to take from it, what would a couple of them be in your opinion?
JC:
This years WJC was heartbreaking. Truthfully, people dont understand just how difficult the WJC tournament really is. It isn't so much about the talent each team possess as much as it is about how well each team gels in the short amount of time they have with each other. We just didn't have that chemistry we had in Saskatoon, and as a result other teams were able to exploit that.
PC:
You were drafted by the Dallas Stars fairly high at 11th overall in 2010, did they express a lot of interest in you prior to the draft, or was it a complete surprise for you when you were drafted?
JC:
Prior to the draft there were several teams with high picks that showed lots of interest, Dallas being one of them. Therefore, when my name was called it wasn't so much a surprise I went that high as it was a surprise Dallas chose me over my good buddy Cam Fowler. I feel so honored Dallas chose me as they could have easily chose Cam, but it shows they have a long term plan for me in their organization and I am excited to do whatever I can to exceed their expectations.
PC:
What made you decided to come over to the OHL?
JC:
My decision to choose Windsor over the University of Michigan was solely based on what I believed would better prepare me for the pros. The NCAA game is extremely skilled and there is no doubt a lot of positives about it. However, for me I wanted to challenge myself to playing 45 plus games a season, an NHL style playoff format, and play against other high quality players around my age. I learned so much in my two seasons in the OHL, I feel so confident in my game now after seeing what I needed to work on in the OHL.
PC:
I have to ask... Are you at all aware that you were drafted to HC Dinamo Minsk in the 7th round,70th overall in KHL? And do you ever see yourself playing there? (I sure hope you don't haha)
JC:
I am aware of being drafted into the KHL but my goal since I was 7 years old was to win a Stanley Cup, and that will never change. I want to be Dallas's franchise goaltender and I am willing to put all the work in so I have that chance when the time is right.
PC:
So this last question is one that we ask everyone. Who do you try to model your game after, or do you just try and be "Jack Campbell"?
JC:
I definitely play my own style game just like any NHL goalie you see now days. But a few of my favorites to learn from are Marc-Andre Fleury, Pekka Rinne, and Kari Lehtonen. I am always looking for ways to improve and there is no better way to do that than watching the best in the game.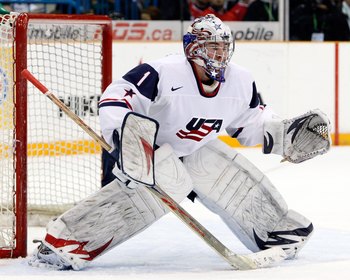 Big thanks to Jack for taking the time to do this interview with us. If you're not already give him a follow on twitter:
@Jack1Campbell
.
Also if give us a follow at:
@PuckCentralHQ
Contact us at:
Twitter:
@PuckCentralHQ
Email:
puck.central@gmail.com