Player Bio:
Player Name: Ryan Murray
Date of Birth: September 27th,1993
Place of Birth: White City, Saskatchewan
Height: 6'1 Weight: 201lbs
Shoots: Left
Position: Defense
Team: Everett Silvertips (WHL)
Puck Central Draft Ranking: Number 2
NHL Potential: Top 2 defenseman
NHL Comparison: Scott Niedermayer
The Scoop:
Ryan Murray has been the favorite to be the first defenseman taken in this years draft for awhile. He was the 9th overall selection, of the Everett Silvertips in the 2008 WHL Bantam Draft . He played 5 games in the 2008-2009 playoffs, and recorded one assist. His WHL career officially started in the 2009-2010 season, where he racked up 5 goals, and 22 assists in 52 games, which is impressive for a 15 year old defenseman in the WHL. Everything really took off for Murray during the 2010-2011 season,though. He was named captain of the Silvertips at just age 17. He completed 70 games and recorded 6 goals,40 assists and 45 penalty minutes. He almost made Team Canada's World Junior team, and captained Team Canada at the U-18′s as a 17 year old, where he put up 3 goals and 10 points, in 7 games. Expectations were high for Murray heading into this season (His draft year) and he was up for the challenge. He suffered an injury early in the season which had some worried that he might not be able to play on Team Canada at the World Junior Championships but he recovered in time and helped Canada take home Bronze. He was every a very good defenseman at the tournament and played a big role on the team. He finished the 2011-2012 season with 9 goals and 31 points in 46 games.
Although most had Ryan Murray the top rated defenseman in this draft, not everyone did. Mathew Dumba was also favored by many to be the first D-man taken in this draft but Murray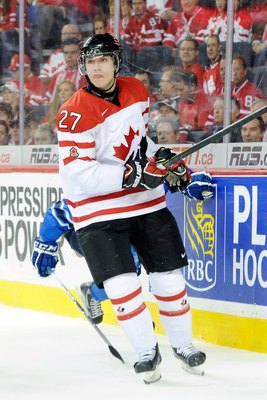 separated himself from the rest, much like Yakupov did. Murray is the whole package in a defenseman. He has great shot, that's both accurate and hard. He has smooth skating and great control with the puck, much like NHL greats Scott Niedermayer and Nik Lidstrom. He isn't flashy so he normally will make smart, short, accurate passes to break out. He isn't an overly offensive player, which means his transition to the NHL will likely have him being more of a stay at home defender. Again like Niedermayer and Lidstrom he has good size but isn't overly physical, instead play more of a positional, and technical style of defense. One of Murray's greatest assets is that he doesn't get rattled. As I'm sure most hockey fans saw, at the World Junior semi-final game he was the victim of some bad luck. He didn't let it rattled him and the second half of the game he was relied upon heavily. His poise with the puck, and without it is incredible considering his age and will be will be well liked by NHL GM's. He also has great leadership qualities which will likely get him a "C" sooner than later in the NHL.
Ryan Murray is arguably the most NHL ready of all the prospects, and will most likely be in the NHL right away. He's a great all-round player, who can step into an NHL team right away and make a difference. There's no guarentee's that Columbus is going to use their 2nd overall pick to take him, but if I had to put money on it, I would say Murray is going 2nd overall. He's a future captain in the NHL and will be the backbone of some teams blueline for many years.
Strong Points:
• Great Poise With And Without The Puck
• Strong Skater
• Handles The Puck Well
• Accurate Passer
• Hard To Beat One-On-One
• Doesn't Get Rattled
• Great Leader
• Nice Size
Weak Points:
• Not Very Physical
• Not An Overly Offensive Player
• Potential Might Be Limited
Interesting Facts:
• He played on Team Canada's U-18 team as a 16 year old
• He was the Captain of Team Canada at the U-18′s as a 17 year old