This list will consist of my top 15 prospects, however I'll be excluding players in North American professional leagues (NHL/AHL).
1)Dougie Hamilton,Defenseman(2011-9th Overall, Boston):
He's a massive (6'4,198lbs) Two-Way defensmen who handles the puck extremely well but it's his incredibly smooth skating that has everyone paying attention. He can play a physical,defencive game, as well as a dominating offensive game (50GP-17G-55A-72P). He's not expected to put up those kinds of numbers in the NHL but I think he has top 2 D-Man potential, and will step into a top 4 role with Boston very soon. He's a leader on and off the ice, and under the supervision of one of the NHL's best defensemen,Zedano Chara, he could be a future captain of the Bruins. He's the kind of guy you would build your blueline around and I think he'll be considered a "steal" at 9th in a few years.
2)Jonathan Huberdeau,Center(2011-3rd Overall,Florida):
Huberdeau is a highly skilled forward who skates fast, and has a decent pair of hands to match that speed. He has great vision and scores goals like they're nothing, however at the WJC this winter he showed he's an incredible playmaker by setting up Mark Stone about 15,000 times a game and finishing the tournament with 8 assists. The Florida Panthers feel they have a franchise player in Huberdeau and are taking all the right steps in developing him, which started with sending him back to the Seadogs after a great pre-season. I think it's safe to say Huberdeau will be in Florida next season and is an early favourite to take home Rookie of the Year(I know it's still WAY to early).
3)Vladmir Tarasenko,RightWing(2010-16th Overall,St.Louis):
I know what you're all thinking, "Where's Kuznetsov, or Granlund?". Well to that I say, Tarasenko is simply a better prospect. Tarasenko is a big physical winger(6'0,202lbs) with an incredible amount of skill. He was the captain of an underdog Russian team who won Gold at the WJC a few years ago, and was a big part of their historical comeback. He's played incredibly well this season in the KHL, putting up 23 goals,and 24 assists in 54 games, not bad for a 20 year old. I think if he comes to the NHL next season he'll make a huge impact on the St.louis Blues and could also be a favourite for the Calder.
4)Evgeny Kuznetsov,Center(2010-26th Overall,Washington):
Kuznetsov is an extremely skilled forward, with tremendous skating, and a deadly shot. He's considered by many (Not me) to be the best prospect in the world. He's had two good WJC, but despite leading the tournament in points this year (14), he only had points in two games. I think he's an unprecitable player, who's a little too cocky for my liking, but you can't argue his skill. When or if he comes over he'll likely fall into Washingtons top 6 right away.
5)Mikael Granlund,Center(2010-9th Overall,Minnesota):
Mikael Granlund, like Kuznetsov, is regarded as one of the best prospects in the world. He lit up the Finnish League as a 17 year old with 40 points in 43 games, and has continued to dominate. He has world class playmaking abilities, and has hockey sense that is next to none, however it's his skating, and size that could slow him down at the next level. With all that said anyone who watches hockey knows that being a small player doesn't mean much if you're smart player, which Granlund is. If he comes over next season I don't think he'll be a "huge" impact but he'll get points and develop nicely on a young Minnesota team.
6)Brandon Gormley,Defenseman(2010-13th Overall,Phoenix):
Brandon Gormley is a solid two-way defenseman that just about any team would love to have in their system right now, which makes you wonder why he fell to 13th overall in 2010. He won't dazzle you with his hands, or constant huge checks, but he gets the job done at both ends of the ice. I think once he develops more he'll get decent time on both the powerplay and penalty kill.
7)Sven Baertschi,LeftWing(2011-13th Overall,Calgary):
Sven Baertschi has proved this season that he's an pure offensive dynamo, plain and simple. He averaged 2 points per game this season in the WHL (47GP-33G-61A-94P) and scored 3 goals in 5 games with the Flames. His impressive play with the Flames is the reason he's so high on my list. He should be with the Flames full time next season, and if he can play like he did in his first 5 games, he could be considered an early favourite for Calder.
8)Ryan Strome,Center(2011-5th Overall,NYI):
Ryan Strome is a crafty playmaker, with hands that just about any hockey player would dream about of having(Just youtube "Ryan Strome"). He has decent size(6'1,183lbs) but needs to get stronger. I've had the luxury to see him play quite a bit this season and he's impressed me, but in small doses. I think with the right development he'll be a great NHLer who compliments John Tavares nicely.
9)Charlie Coyle,Center(2010-28th Overall,San Jose--Traded to Minnesota):
Charlie Coyle was a key piece in the trade that sent Brent Burns from Minnesota to San Jose. After the WJC, in which Coyle represented America, he left Boston College to go play for the defending Memorial Cup Champions, the Saint John Seadogs. He's played extremely well for the Seadogs and has developed nice chemistry with fellow Wild Prospect Zack Phillips.
10)Brandon Saad,LeftWing(2011-43rd Overall,Chicago):
Brandon Saad is a big winger who can play a physical game defencive game, as well as a skilled offensive game. He slipped in the draft, but still made a very good Chicago Blackhawks team out of training camp, but was sent down after 2 games. In my opinion the first round of this years OHL playoffs has really been a coming out party for Saad, after he dominated a highly skilled Sarnia Sting team.
11)Mark Scheifele,Center(2011-7th Overall,Winnipeg):
Mark Scheifele is a big playmaking center with great hands and knack for scoring. Despite his size he's not really a physical player and his skating could definitely improve. Impressed a lot of people by making the Jets out of training camp but hasn't really impressed at all at the junior level this season, which is why he didn't crack my top 10.
12)Jakob Silfverberg,RightWing(2009-39th Overall,Ottawa):
Jakob Silfverberg isn't exactly a "high-profile" prospect and flew under the radar, but when he was named MVP of SEL people are starting to take notice. He was 2nd in scoring with 24 goals and 54 points in 49 games, which is impressive for a 21 year old. He's a gritty winger who can get it done in both ends of the ice, and will likely be part of Senators top 6 next season. Sens fans should put Zibanejad on the back burner and really pay attention to this guy.
13)Ty Rattie,RightWing(2011-32nd Overall,St.louis):
Ty Rattie is pure offense. He put up 57 goals, and 121 points in 69 games this season in the WHL. He's smart with the puck, which allows him to make plays, and find open teammates. He needs to play a more complete game and get stronger physically before he'll be able to produce in the NHL, but his potential his high.
14)Nathan Beaulieu,Defenseman(2011-17th Overall,Montreal):
Nathan Beaulieu is a big time offensive defenseman, with great vision and skating. He might jump into the rush a little too much, and take too many risks but as he matures he'll learn when to take those chances. As the case for many offensive defenseman, he needs to work on his defencive play more. He'll be able to anchor the Montreal powerplay for years to come.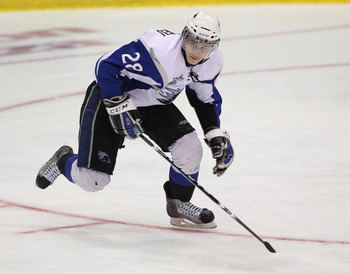 15)Petr Mrazek,Goaltender(2010-141st Overall,Detroit):
This years WJC was a coming out party for the Czech goaltender. He won the "Top Goaltender" of the Tournament award and put himself on the map as an elite prospect. I know he's somewhat of an "off the board" prospect but I've had the luxury to watch him play several times this season and he's one of the best goalie prospects out there, I also thought I needed a goalie on this list. He has a great glove hand, and has cat-like reflexes. He has decent size and has great positioning. It's only fitting that Detroit would have drafted this kid 141st overall and I think in a few seasons he'll be pushing Jimmy Howard for time in Detroit.
Honorable Mentions:
Justin Schultz,Defenseman (2008-43rd Overall,Anaheim)
Joel Armia,RightWing (2011-16th Overall,Buffalo)
Vlad Names,Center (2011-27th Overall,Tampa Bay)
Mika Zibanejad,Center (2011-6th Overall,Ottawa)
Ryan Murphy,Defenseman (2011-12th Overall,Carolina)
Let us know your opinions by emailing us or tweeting us!
Twitter:PuckCentralHQ
Email:puck.central@gmail.com